Counselor Spotlight: Xiong
The first in a series of Interviews with LHA staff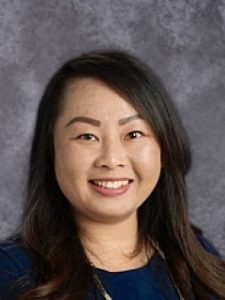 Dr. Xiong has been an important, prominent, and influential advisor here at LHA, showing her dedication and passion to help students with goals and aspirations. Dr. Xiong and the rest of the counselors have established generations of student success and achievement, through their perseverance to make LHA college for certain. We hope that this month's edition of the Counselor Spotlight will help students and families become acquainted with Dr. Xiong, recognize what she's like and what she stands for, and assure that our students at LHA are in good hands.
Dr. Xiong adopted counseling as her lifetime career, but what influenced this choice? She recounts that she comes from a generation of refugee parents, who believed in the value of education as a means to attain the "American Dream." Fast forward into her Senior year, Dr. Xiong, "… transferred… the summer before [her] senior year," meaning she had to start as a new student bringing along some adversity. Some high school credits from her previous school years could not transfer due to complications with the new school's class categorization. Luckily she met with a counselor, who was stern on letting those credits transfer so she can successfully graduate on time. The perseverance and dedication of that counselor is what inspired Dr. Xiong to become a counselor, wishing to also "help students learn and grow into their own persons."
Since then, Dr. Xiong has become an important leader at LHA encompassing many of the responsibilities that prompt students' futures. Dr. Xiong sees herself and the rest of the counselors as leaders because they "guide, [they] teach, [they] coach to help shape the next generation of leaders who will take our place." It is the role of the counselors to "shepherd" students and families throughout high school so that students become avid scholars. Just like her high school counselor, Dr. Xiong's primary goal is to ensure that students at LHA succeed in life. Dr. Xiong drew motivation from words of encouragement from an admirer, listing that a successful leader leaves an impact on its followers even after they are gone. In the same manner, Dr. Xiong wants to establish that sense of "ability, confidence, and self–assurance" as students leave LHA to create futures and career paths on their own. Dr. Xiong's goal in life is to transform students into impending influencers.
Dr. Xiong takes this exact passion and mindset into the actual work field when she advises students. Students feel comfortable going to Dr. Xiong for any questions or assistance. She gives off a caring, charismatic, soft, and authoritative vibe when speaking to her. She enjoys learning about students' "personalities, the conversations, and the opportunity to see students evolve throughout the years." This devotion to the school community is the reason why Dr. Xiong has always displayed the "go-to mentor" for all of our student struggles and needs. Dr. Xiong accomplishes this because she is always willing to help "where ever I can, and do so in a timely fashion," even in the most difficult situations. Dr. Xiong as a counselor has contributed to the caring and supportive school climate at LHA through her hard work and dedication.
With the recent pandemic, the counselors have to adapt to changes in the structure of the work environment. So how does Dr. Xiong stay organized even with these challenges? "I love an organized work space… stationery and office supplies," Dr. Xiong stated. Jokingly, she mentioned that she sees herself having OCD, but she emphasizes that it is important for her to have a clean work environment, and "keep it that way in order to be able to function in my work space." Dr. Xiong makes sure that every day she "takes a few minutes to put everything away," before leaving her workspace until the next day. This heightened organization has always been a part of her life, forming her overall personality, and it is this organization that makes students feel that Dr. Xiong is always on top of things. Please stay tuned for next month as we introduce another counselor part of the LHA team in our monthly Counselor Spotlight series.
Picture of Ms. Xiong
Photo Credit: LHA Staff Directory on LHA Website
Co-Author Credit: Kaylin Saunders
Leave a Comment