Counselor Spotlight: De Leon
The next installment of our Staff Spotlights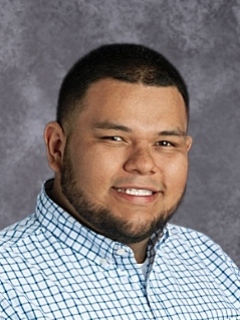 While Mr. De Leon has only recently started counseling at LHA, he still captured the hearts of the LHA community, connecting with each of the students he meets. As part of the academic counselors, he is responsible for encouraging kids to establish a post highschool plan, and set them on a path for perseverance and success in their adult life. This month's counselor spotlight hopes to introduce parents and scholars to Mr. De Leon, who will become an important figure for getting our LHA kids to find a career path. Mr. De Leon is a passionate leader, who cares deeply about LHA students and getting them to success, which he finds "humbling and rewarding."
Mr. De Leon didn't always plan to become a school counselor. Throughout his college career, he changed his major a total of three times! He worked at the college he graduated from after receiving his bachelor's, where he worked as an admission counselor. Many situations push students away from attending colleges, whether it is for financial reasons, or because they are unsure about their future. "I encountered students who had never thought about attending college," he mentioned. It was this experience that sparked Mr. De Leon to pursue a full career in counseling. Coming from a large high school where one on one meetings are less frequent, Mr. De Leon was immediately drawn to LHA for it's "diversity… and the plethora of resources available to students." The small student body allows him to genuinely help students achieve their career goals, and enact a lasting impact on student lives. "I get to build genuine relationships with students… be able to offer them all equitable services." Mr. De Leon was at first nervous to begin working at LHA, but "[he] was blessed with incredible teammates who continue to guide and model what being an influential counselor is like."
Throughout his two years of experience, he meets with teachers, scholars, and parents to ensure that students receive the support and materials to do well in high school, and succeed after graduation. "I am incredibly honored to serve our LHA community," Mr. De Leon gladly stated, as he hopes to contribute to the school community.
Mr. De Leon defined the word "leader" fitting into his job in many different ways. He states that "as school counselors, we are uniquely equipped to bridge the gaps between administration, teachers, parents, and students." Mr. De Leon believes that the word "leader" fitting into his role of being a school counselor, "ensures underserved and first-generation students have access to and the tools to reach all possible post-high school options." Mr. De Leon's most essential characteristic is that he has to support a caring school climate by "putting [him]self in the shoes of the person speaking, whether that is a student… helps me truly understand their perspective." Mr. De Leon is a Native Spanish speaker; he states that "it is helpful when interacting with our Spanish-speaking parents." Mr. De Leon enjoys working for LHA and enjoys making sure that scholars are on top of their work. He mentions that, "being a counselor at LHA has allowed me to be useful to our students and their families." Mr. De Leon takes this passion and devotion that he has for the students when he advises.
After two years at LHA, Mr. De Leon describes that "Our day to day schedules are busy!" as counselors have many responsibilities when it comes to handling students. Throughout the year, Mr. De Leon is concerned with senior application season, and helps seniors along that journey, constantly reminding them of college portals, filling out documents, and submitting the FAFSA. Afterwards, counselors have to "schedule meetings with their parents and together [they] will make a college decision." He also plans future student courses, makes sure they register for dual enrollment classes (i.e college classes), plan summer classes, and senior events. His role in the school community not only advises students towards post-high school success, but also provides the necessary materials and assets during high school to work towards that goal. Managing many of the students, Seniors are held at utmost priority, especially with the recent pandemic hindering communication between students and the counselors.
Due to the pandemic, the Counselor's decided to "split students by the last name… separately amongst the three of us," in order to streamline communication. Even though the pandemic has brought many unfortunate difficulties and challenges in our community, the counselor team has it all under control. "It saddens me that we had to start their last high school year in distance learning," however optimistically, he recognizes that the school community "managed to push forward with innovative thinking." Along with empathy, creativity is one of the most important factors when counseling this year, with new ways of handling students through online communication. This time has proven extremely stressful for our scholars, but Mr. De Leon assures that wherever students may go, he wants them to be "encouraged and proud of their accomplishments."
Mr. De Leon is an influential leader, caretaker, and inspiration to LHA scholars. Mr. De Leon is always out and about, ready for the next adventure, as he finds "joy in small things" along his journey. Learning about the small things in a student's life is one of the things he enjoys a lot as a counselor, as students have developed a connection to Mr. De Leon over the years. With his influence and relationships at school, students feel they can depend on Mr. De Leon. Students take interest in his personality, leadership, and overall jubilant attitude. Please stay tuned for next month as we introduce another counselor, part of the LHA team, in our monthly Counselor Spotlight series.
Picture of Mr. De Leon
Photo Credit: LHA Staff Directory on LHA Website
Leave a Comment