Movie Review: Nope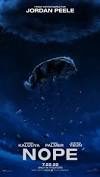 This film is a neo-western science fiction that is Rated R and includes violence/ gore, profanity, Alcohol/smoking, and frightening and intense scenes. Nope premiered July 18th and was released July 22, 2022. This movie was written, directed, and co-produced by Jordan Peele under monkey paw productions. Peele also directed the films Get Out (2017), Us (2019), and Candyman (2021). The cast for Nope includes Daniel Kaluuya, Keke Palmer, and supporting actors Steven Yuen, Brandon Perea, and Michael Wincott. The film has grossed over $170 million worldwide and received great recognition for its cinematography and direction. The movie runs for about 130 minutes and is sort of divided into 5 chapters, "Ghost", "Clover ", "Gordy "," Lucky", and "Jean Jacket".
What is the movie about?
On the current day Agua Dulce, Los Angeles ranch owner Otis Haywood Sr. who trains horses for film productions suddenly passes away after being struck in the eye by a nickel that falls inexplicably from the sky. Both his children ("Oj" Otis Haywood Jr. and "Em" Emerald Haywood) inherited the ranch. Oj and his sister Em, in an attempt to keep up with their father's legacy, help film a commercial 6 months after their father's death, when suddenly one of their horses Lucky, starts to react aggressively during production when a crew member starts it. This incident leaves them jobless and their financial woes push Oj to start selling their horses to a man named Jupe Park (Steven Yuen) who operates a theme park nearby called Jupiter's Claim. In the next scene, Oj and Em go to Jupe parks office, where he shows the two a room full of memorabilia of a show he used to star in called "Gordy's Home", which stopped airing due to an incident regarding the monkey, Gordy, while they were shooting an episode about Gordy's birthday. He refers to an SNL (Saturday Night Live) skit when trying to describe the events that took place to Oj and Em. Later on in the film, they show said event which is very intense and includes gore, (viewer discretion is advised), and shows how Gordy had reacted violently when a balloon popped, causing him to go ballistic and murder the crew members except for Jupe, instead giving him a fist bump towards the end of the scene then being shot shortly after.
That night when Oj and Em returned to their home, their electricity suddenly fluctuates and one of their horses takes off and the others react aggressively towards an unknown presence. After Oj goes to get back the horse that ran off, he notices a flying object in the sky, shaped like a flying saucer. This flying object was responsible for abducting their horses and dumping inorganic matter, which happened to be the reason their father died. To obtain evidence of the UFO, Oj and Em decide to try and get foolproof footage of the being that can not be debunked in any sort of way. Towards the end of the movie, the film person that Em and Oj recruited sacrifices himself for the impossible shot. Angel ( the tech person that got involved in the situation) almost gets consumed by Jean Jacket (what they call the creature) but gets saved by being wrapped in a tarp and bobwire. Em goes to Jupes theme park to draw away Jean Jacket and releases a giant air balloon in hopes to get a picture of the creature with an analog camera and is successful; this also seemingly kills Jean Jacket.
Why Should you watch this movie?
Overall, this movie is both suspenseful and packed with chilling scenes. It covers the mysteries of alien life and what it could be capable of, while also giving us some scares along the way. If you are interested in extraterrestrial life then this movie is great for you.