Friendsgiving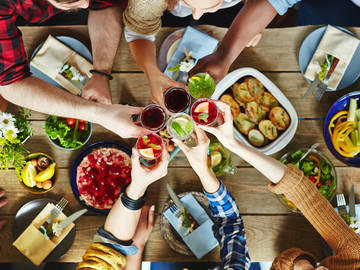 I can say that there have been a lot of Festivals back-to-back. We have just had a Fall Festival on November 30 and Winter Festival on December 9, and now the senior class of 2023 is having a Friendsgiving on Wednesday; December 14, 2022. The Friendsgiving is being hosted by Mr.Mueller on school grounds from 2:00pm to 5:00pm. I hope all members of the class of 2023 can join because it will be our last year together and we should make the most of it. 
For all of the seniors that are attending, make sure you are in appropriate wear. You can either wear Titian gear, or go along with our Winter Spirit Week (Wednesday – Santa & His Helpers) you can dress up as Santa, Elves, or Reindeers. In addition, it is also going to be 53 degrees, so make sure you wear something that'll keep you warm and prevent you from getting sick. 
At Friendsgiving, you are not required to bring food, but you are welcomed to. It doesn't matter what you bring as long as it is edible and enough for everyone; Please be mindful of your peers. Hopefully on the Friendsgiving form everyone has read the terms and conditions. You can not sue the school if you have got food-poisoning or any other issues from the food that an individual has brought, so keep that in mind.
I hope that the class of 2023 has fun at the special event and makes memories. We are hoping that seniors can create a bond with each other and with the staff. Don't forget to take pictures so they can be added to the LHA's yearbook. Hope you all stay safe and stay warm!
https://www.merriam-webster.com/words-at-play/friendsgiving-meaning